Introduction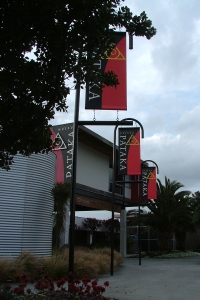 PATAKA Museum of Arts and Cultures in Porirua City is one of the leading public art venues in the Wellington region.
The opening took place on Sunday, 10 October 2004 at 2pm coinciding with the opening of PATAKA´s Spring Exhibition Season.
The New Zealand Tile Project team feel they are priviledged to be at PATAKA and express their sincere thanks to the management and staff of PATAKA for their invaluable assistance and support.

Images of installation and opening are presented on the associated pages accessible from the menu on the left.
© Copyright 2004 by Roland Idaczyk, Wellington, New Zealand.
All tiles and their images are copyright by the associated artist. All Rights Reserved.
Reproduction of images or text only with permission in writing.