Special Limited Edition

The tile features a Kiwi, New Zealand´s national bird, and a fern leaf.
The tiles measure approximately 100x100mm or 4x4 Inches and are outdoor-proof.
The edition is limited to 3 tiles and an artist´s proof. The latter will not be sold.
These tile are offered to raise funds for the production of a catalogue on the occasion of
a documentary exhibition at UNESCO in 2006. These and the tiles of other participants of
the Tile Project will be given to sponsors of the Tile Project, who donate a set amount.
The donation is tax-deductable.
For further details please contact Mary Sherman of the TransCultural Exchange.
Below the individual tiles are reproduced in a larger size. Please scroll down.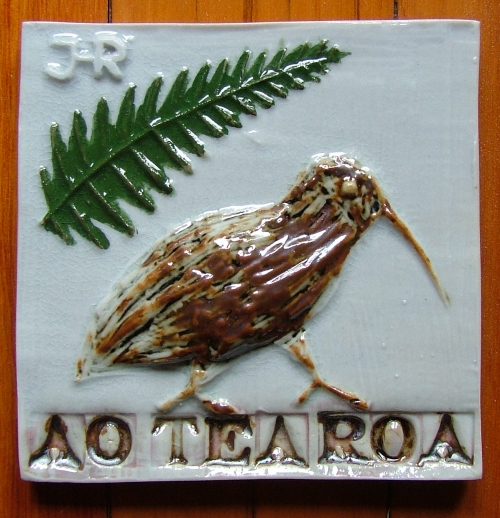 Tile number 1 of 3.
Tile number 2 of 3.
Tile number 3 of 3.
© Copyright 2004 by Roland Idaczyk, Wellington, New Zealand.
All tiles and their images are copyright by the associated artist. All Rights Reserved.
Reproduction of images or text only with permission in writing.